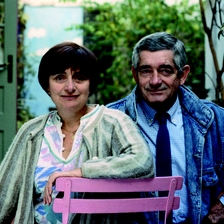 Ciné-Tamaris entrusts the catalogues Varda and Demy to mk2 films [in English]
The mandate agreed between mk2 Films and the company founded by the Varda-Demy family includes the French and International rights (excluding DVD publications and theatrical distribution in France).
The catalogue includes feature films, short films, and documentaries by two directors who have marked the history of international cinema and continue to influence contemporary creation today.
Almost all of the films by Agnès Varda and Jacques Demy have been restored and digitized.
The world over, tributes and retrospectives are dedicated to these films, some of which have been successfully rereleased in theatres.
This year, Agnès Varda is presenting the documentary VISAGES VILLAGES co-created with the artist JR, Out of Competition in the Official Selection at the Cannes Film Festival.
Marin, Nathanaël, and Elisha Karmitz are delighted and grateful for the confidence accorded by Agnès Varda, Rosalie Varda, and Mathieu Demy to the mk2 group and intend to showcase this legendary corpus of films in France and abroad.
With this significant and prestigious mandate, after the acquisitions of the François Truffaut catalogue in 1999 and the Charles Chaplin catalogue in 2001, mk2 Films now holds over 400 titles that are particularly representative of global film creation, also featuring the works of [AK1] Krzysztof Kieslowski and David Lynch, Claude Chabrol, Abbas Kiarostami, Alain Resnais, Xavier Dolan, Olivier Assayas, and many more.
Created in 1954 with the name Tamaris Films to produce LA POINTE COURTE, Agnès Varda's first feature film and cinematic precursor to the New Wave, the production company became Ciné-Tamaris in 1975 to produce DAGUERRÉOTYPES
and Agnès Varda's subsequent films. Ciné-Tamaris bought out most of the films of Jacques Demy.
Alongside distribution and video publication, Ciné-Tamaris has undertaken to protect the catalogue and accompany by way of retrospectives, exhibitions, and books.
List of films
AGNES VARDA
Feature films
La Pointe courte / Cléo de 5 à 7 (1962 Cannes Film Festival, In Competition) / Le Bonheur (1965 Berlin Film Festival, Silver Bear) / Lions Love / L'une chante l'autre pas / Sans toit ni loi (1985 Venice Mostra, Golden Lion, Prix FIPRESCI, Prix OCIC, César for Best Actress for Sandrine Bonnaire) / Jane B. par Agnès V. (1987 Berlin Film Festival, In Competition) / Kung-fu Master (1988 Berlin Film Festival, In Competition) / Jacquot de Nantes (1991 Cannes Film Festival, Out of Competition) / Les cent et une Nuits (1995 Berlin Film Festival, In Competition)
Documentaries
Murs, murs (1981 Cannes Film Festival, Un Certain Regard) / Daguerréotypes / Les Glaneurs et la Glaneuse (2000 Cannes Film Festival, Out of Competition)  / Deux Ans après / Les Demoiselles ont eu 25 ans / L'Univers de Jacques Demy (1995 Venice Mostra, Out of Competition) / Les Plages d'Agnès (César 2009 Best Documentary) / Agnès de-ci de-là Varda (2011)
Short films
L'Opéra-Mouffe / Du Côté de la côte / Les Fiancés du pont Mac Donald / Salut les Cubains / Elsa la rose / Uncle Yanco / Black Panthers / Réponse de femmes / Plaisir d'amour en Iran / Le lion volatil Ulysse/ 7 P., cuis., S. de B. / Les dites Cariatides / T'as de beaux escaliers, tu sais / Le Lion volatil / Ydessa, les ours…
JACQUES DEMY
Feature films
Lola / La Baie des Anges / Les Parapluies de Cherbourg (Festival de Cannes Palme d'Or 1964) / Les Demoiselles de Rochefort / Peau d'âne / Le Joueur de flûte / L'Événement le plus important depuis que l'homme a marché sur la Lune / Une Chambre en ville / Parking
Short films
Les Horizons morts / Le Sabotiers du Val de Loire / Le Bel indifférent / Musée Grévin / La Mère et l'enfant / Ars / La Luxure