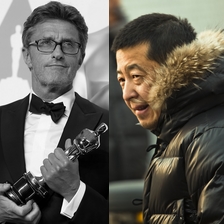 mk2 coproduces two new films (in English)
The mk2 teams are proud to work on the coproduction of the new films of directors (Mountains may depart, 2015) and Pawel Pawlikowski (Ida, 2013), which will be shooting this year : Money & Love et Cold War.
Money & Love, directed by Jia Zhang-Ke
Chinese star auteur Jia Zhangke, whose latest movie Montains May Depart competed at Cannes, is reteaming with French studio mk2 on his next directorial effort, Money & Love, a tumultuous love story set in China's crime world. mk2 already produced Mountains May depart and sales worldwide 3 other of his films : A touch of Sin (2013), Still life (2010) and 24 City (2008).
Money & Love opens in 2001, in Datong, a poor industrial city in China, where Qiao, a pretty and young dancer falls in love with Bin, a local mobster. During a fight between rival gangs Qiao fires a shot to protect him and subsequently gets sentenced to five years in prison. Upon her release, Qiao goes looking for Bin to try and start all over again.
The film will reteam Jia Zhangke with his muse, Zhao Tao, who previously toplined in Mountains May Depart, Still Life and A Touch of Sin.
Cold War, directed by Pawel Pawlikowski
mk2 films and Protagonist Pictures have teamed up to handle worldwide sales on Cold War, the new film from Academy award-winning writer/director Paweł Pawlikowski which has begun production in Poland. The film will be introduced to buyers at EFM in Berlin, and is due for completion in 2018.
The film marks the first collaboration between MK2, the French production, finance, sales and exhibition company which has a legacy of working with the world's greatest directors, and Protagonist, the London-based production, finance and sales outfit which has made its name selling strong authorial visions.
Cold War is a passionate love story between two people of different backgrounds and temperaments, who are fatally mismatched and yet fatefully condemned to each other. Set against the background of the Cold War in the 1950s in Poland, Berlin, Yugoslavia and Paris, the film depicts an impossible love story in impossible times.
Copyright image Jia Zhang-Ke : Xstream Pictures (Beijing)