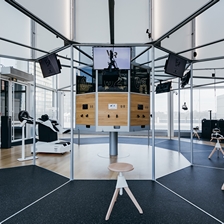 mk2 VR: new times and prices [in English]
Enjoy the spring break : from April 1st to April 18th, the opening hours are extended !
mk2 VR will now be open everyday:
•From monday to wednesday: 2pm > 8pm
•Saturday: 11am > 11pm
•Synday: 11am > 8pm !
Good news: starting April 1st, a new offer for a longer experience
The offer of 20€ to book 40 minutes within the mk2 VR moves on to 24€ to enjoy 50 minutes within the venue.  The offer of 12€ for 20 minutes is still available.
Copyright image : mk2 VR (2017), Benoit Florençon.