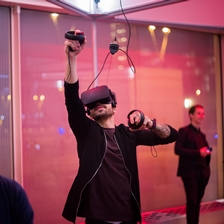 mk2 Vr : online purchase available [in English]
It is now possible to book your tickets in advance for a session at mk2 VR through www.mk2.com or www.mk2vr.com. The pass allow you to access the venue during 20 minutes or 40 minutes. During this time, you can use all of the VR pods and experiences.
New sessions are opened to online purchase each week. Online purchases close the day before a session takes place. The purchase of a ticket for the very day is only possible onsite, at this address : 160, avenue de France 75013 Paris.
mk2 VR distinguishes itself due to an eclectic program that is faithful to the group's editorial line. Since the opening, several contents has been added to the programm, such as the animated film Invasion! from Madagascar's director, the arty experience LoVR about love at first sight (litteraly) and the beautiful game Superhot.
Copyright photo @HLénie