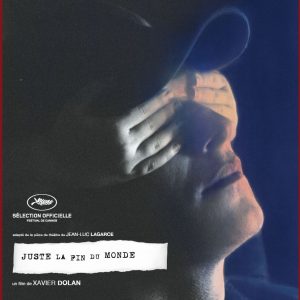 Xavier Dolan's new film will be released in France and Canada on September 21 (in French)
Diaphana, les producteurs Sons of Manual et mk2 productions sont heureux d'annoncer la sortie de JUSTE LA FIN DU MONDE, le sixième film du réalisateur Xavier Dolan.
Adapté de la pièce de théâtre éponyme de Jean-Luc Lagarce, le film raconte l'après-midi en famille d'un jeune auteur qui, après 12 ans d'absence, retourne dans son village natal afin d'annoncer aux siens sa mort prochaine.
Xavier Dolan: « L'affection du public français pour MOMMY a été un véritable moteur pour moi. Qui m'a d'ailleurs propulsé vers cette adaptation un peu périlleuse, mais qui s'inscrit dans la continuité des tensions familiales et de l'amour maternel, et aussi fraternel cette fois-ci. Je suis très fier et ému de la transposition du texte de Lagarce à l'écran, et de la façon dont les acteurs se sont lancés avec moi, généreusement et entièrement, dans cette langue, ce monde théâtral où nous avons cherché ensemble un film à faire. Et ce que nous avons trouvé me ravit, vraiment. J'ai hâte de partager ce film avec le public ».
JUSTE LA FIN DU MONDE est une coproduction Canada-France produite par Nancy Grant et Xavier Dolan (Sons of Manual), Nathanaël Karmitz (mk2), ainsi que Sylvain Corbeil.
Séville International représente le film dans le cadre des ventes internationales.
Le film sera distribué en France par mk2/Diaphana et sortira en France le 21 septembre 2016.