"Filmmaking is like building. I expect a director to bring the bricks. Not to finish the build, but to carry on building it and for other people to carry on building it."

Marin Karmitz

SUPPORTING CINEMA THAT CHANGES THE WORLD
mk2 promotes art-house cinema that takes a unique critical view of the world whilst reinventing the filmmaking process. In its theatres, mk2 strives to bring the best of world cinema to the widest possible audience, creating events, lectures and masterclasses in the aim of giving cinemagoers the tools to understand it.
mk2's editorial policy seeks to move and challenge the audience: making people laugh, cry, dream and think whilst exploring the individual and collective forces that shape the world and so filmmakers' role in society. These aims are a key point in  making the choice to produce directors such as Abbas Kiarostami and Krzysztof Kieslowski or, more recently, coproduce Jia Zhang-Ke's Mountains May Depart, Xavier Dolan's It's Only the End of the World and Pawel Pawlikowsi's Cold War .
In everything that it has done since 1974, mk2 has sought to highlight the diversity of world cinema. It was one of the first companies to produce Iranian (Mohsen Makhmalbaf) or Korean (Hong Sang-Soo) directors in France and to engage itself in the promotion of Asian cinema, for example. The films championed by mk2 share the same intelligence and spirit, as shown by the somewhat mystical approach taken by Kieslowski's Three Colours trilogy or more recently the dialogue between man and nature in Naomi Kawase's Still the Water and An.

CREATING MODERN CINEMAS THAT CHANGE THE CITY LIFE
To establish a cinema in the community, you first need an urban and architectural vision. mk2 cinemas are forums for stimulation, creative discovery and entertainment. Working with local actors (schools, charities, restaurants, etc.) and moving into deprived areas make our cinemas becoming an essential part of city life.
Designed as community hubs, located in historic buildings (mk2 Quai de Seine in Gustave Eiffel's warehouses), built by major architects (Jean-Michel Wilmotte created mk2 Bibliothèque in 2003 and Dominique Perrault the four screens at the entrance to the BNF, which were added in 2014) and outfitted with designers (Martin Szekely, Tsé & Tsé) and artists (Martial Raysse, Gérard Fromanger), mk2 cinemas are artistic showcases that disprupt cinemagoers' expectations.
mk2 also aims to revitalize deprived areas and creativity in the arrondissements overshadowed by Paris's more coveted areas. As mk2 Quai-de-Seine and mk2 Bibliothèque have proven, the cinemas stimulate activity and renovation in areas under construction, contributing to redevelopment of the urban space.
Adapting the sites' layout to encourage interaction and using its unique expertise to reinvent the before and after-screening, mk2 becomes a focal point in the community and increases its awareness of art.
Since the bookstore that opened alongside the first mk2 cinema in 1974, mk2 has seen its sites as forums for stimulation and encouraged cinemagoers to make maximum use of the space: bars, cafés, restaurants, food stalls, arts and crafts, and stores selling a selection of cultural and fashionable products, books and DVDs.
Spurred on by mk2 agency, it has created its own pop-culture festival, combining film, food and music. In 2013 and 2015, mk2 twice reinvented the before, during and after-screening under the glass roof of Paris's Grand Palais, making the audience central to the experience. In putting the fun and festivity back into cinema, Cinema Paradiso is consistent with mk2's emphasis on stimulation, which it has been developing since 1974.
mk2's move into southern Spain in 2014, where cinema had been badly affected by the recession, is part of the same process and focus on the added value that art and cinema bring to the city life. Similar to the work undertaken when mk2 Bastille opened in 1974, mk2 gradually adapted its model at regional level and, with thought-provoking programming, attracted audiences back into the cinema.

ENCOURAGING DIALOGUE BETWEEN THE CINEMA AND ALL CREATIVE FIELDS
In its theatres, mk2 works to create bridges between filmmaking and other art forms by programming artistic and cultural events that have never been held in cinemas before and incorporating artworks into its sites.
mk2 cinemas are positioned as forums for stimulation that bring together a wide range of art and creation: exhibitions, debates, concerts, talks, courses, philosophical discussions and activities for young people are all part of a cultural programme shaped by cinematographic and literary developments. Thought with artists and designers to encourage creation, in perpetual motion, mk2 cinemas breaks down the walls between the arts and are characterized by challenging events and programmes that seek to encourage debate and creative discovery.
mk2 has created the concept of "cine-philo", hosting conferences that use clips from all film genres to explain philosophical concepts. It stages numerous photography exhibitions inside its theaters and outside as well, on its walls. In February 2015, you could discover Jérémie Nassif's extraordinary Voltige exhibition on the exterior of mk2 Bibliothèque. Few years earlier, it was a giant exhibition by the photographer JR around France's National Library. A shot of the event is now on display at mk2 Odéon – Saint-Germain.

DESIGN, ART & PHOTOGRAPHY AT mk2
1974
1976
1995
1996
1998
1999
2003
2005
2013
2014
2016
1974
Installation of Rouge, Gérard Fromanger's historic work in the foyer of mk2 Bastille
Copyright image : mk2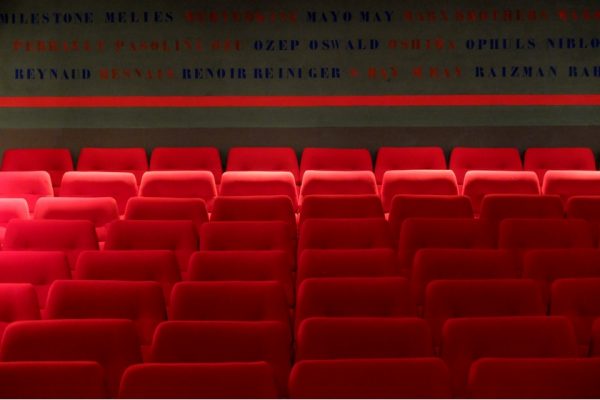 1976
Takeover of Studio Parnasse and replication of the wall painting
Takeover of Studio Parnasse, whose main screen included a wall painting featuring the names of directors that the cinema's owner had worked with. During renovations to expand from two to three screens, Marin Karmitz replicated the wall painting and added the names of the directors that he had worked with and three quotes: "que l'étranger serve le national", "que l'ancien serve le nouveau" and "que cent fleurs s'épanouissent"
Copyright image : mk2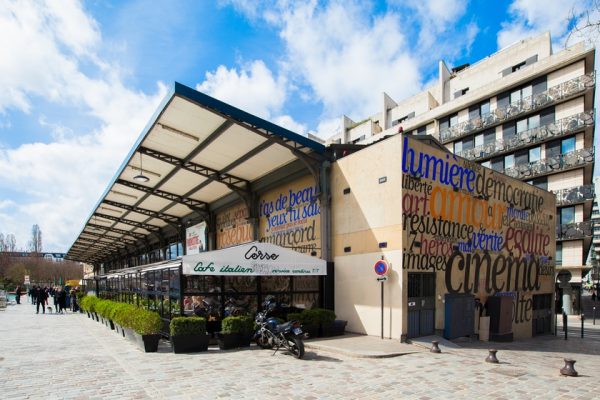 1995
Development of mk2 Quai-de-Seine, including dozens of words connected with the history of mk2 and its cinema
Development of mk2 Quai-de-Seine by Frédéric Namur. Before the exterior was tagged, mk2 decided to tag it itself, with words connected with the history of cinema. Marin Karmitz asked Claude Maggiori to choose film quotes, including "tous les oiseaux sont des cons", and Marin Karmitz added dozens of words connected with the history of mk2 and its cinema: 8 ½, comedy, light, May, equality, resistance, silence, truth, love…
copyright image : mk2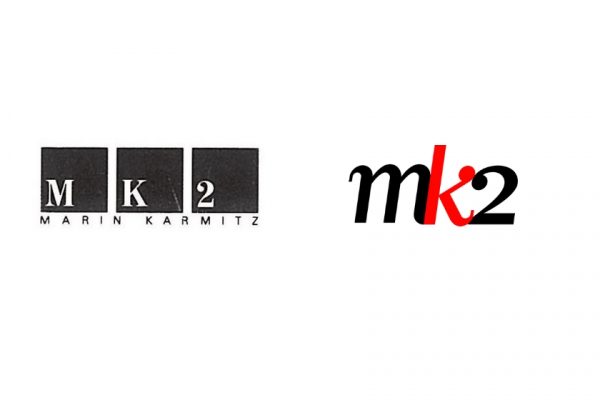 1996
Creation of the mk2 logo by Claude Maggiori
Claude Maggiori, who designed the logo of the Libération newspaper, created the mk2 logo.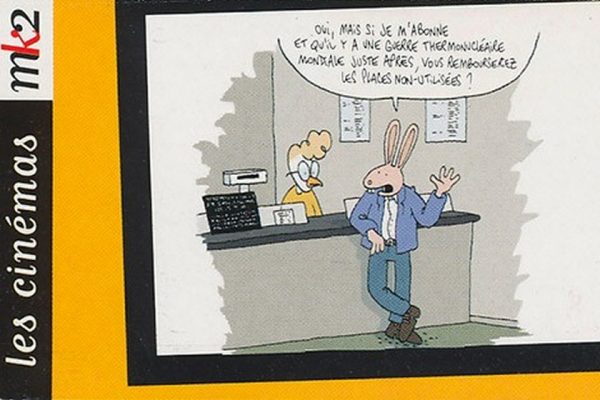 1998
The famous cartoonist Lewis Trondheim devised the marketing campaign for the cinemas
On 29 April 1998, 14-Juillet cinemas were renamed mk2.
Copyright image: Lewis Trondheim for mk2
1999
Creation of the mk2 projectcafé, which screened digital art videos
The mk2 projectcafé welcomed Steve McQueen, Matthew Barney and Philippe Parreno.
A laboratory, visitor centre and coffeehouse, it also included a store.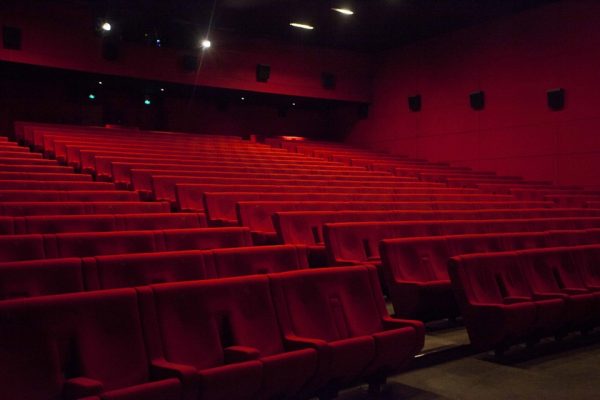 2003
After two years of work, mk2 Bibliothèque, designed by the architect Jean-Michel Wilmotte, opened.
It had been developed with artists and designers from the galleries on Rue Louise Weiss, a hotspot for contemporary art in the early 2000s:
First seat specifically designed for two people: Martin Szekely's Love Seat™
Lighting by Jacques Bobroff
Piece by Martial Raysse at the exit to the screens
Emmanuelle Mafille's stickers on glass at the rear of the cinema
Restaurant's plates designed by Sonia Rykiel
Store outfitted by Tsé – Tsé
Copyright image : le Loveseat, copyright mk2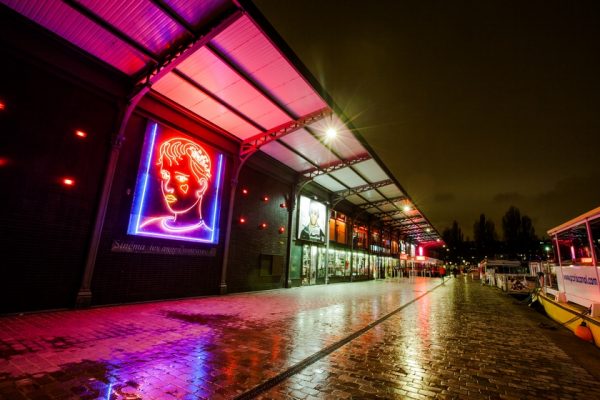 2005
Opening of the Quai-de-Loire cinema with neon artwork by Martial Raysse
The neon artwork is entitled Sinéma, les anges sont avec toi
copyright image : mk2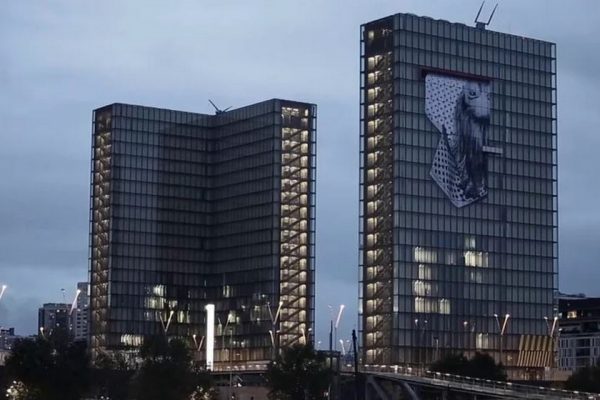 2013
Unique collaboration with the artist JR on a giant exhibition on the square outside mk2 Bibliothèque.
A photograph of the event is now on display at mk2 Odéon – Saint-Germain.
See the video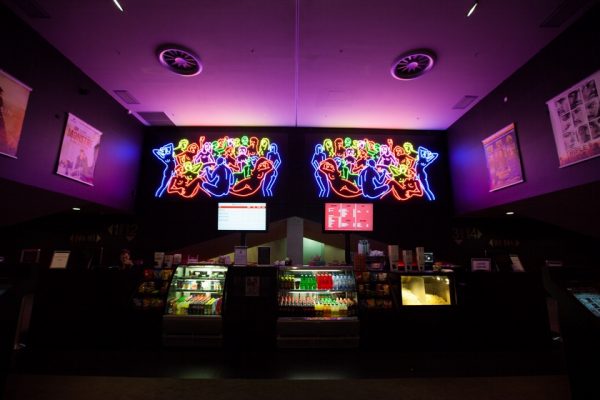 2014
Completion of Martial Raysse's neon wall painting, which decorates the BNF entrance to mk2 Bibliothèque
The neon wallpainting is entitled Re-le bain turc
copyright image : mk2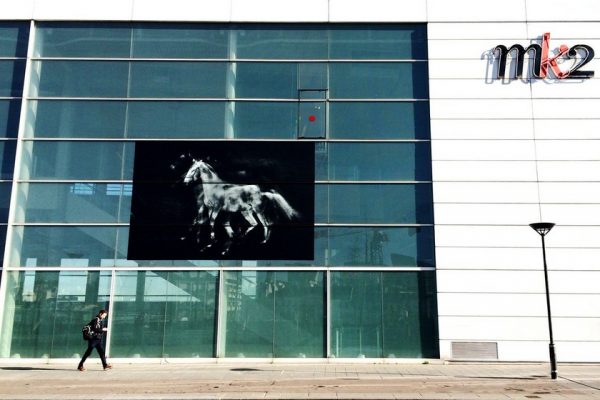 2016
A major exhibition entitled Voltige was staged on the exterior of mk2 Bibliothèque
To mark the release of the book L'instant Expressif on Jérémie Nassif's photographic work
copyright image : galerie SitDown
SKIP THE TIMELINE
Header photo credit: Juliette Binoche in Abbas Kiarostami's Certified Copy (2010), copyright Laurent Thurin Nal/mk2
Banner photo credit "Supporting cinema that changes the world": Journey to the Shore, Kiyoshi Kurosawa (2015), copyright Film Partners Comme des Cinémas
Banner photo credit "Creating modern agoras that change the city life": mk2 Quai-de-Seine, 2016, copyright mk2
Banner photo credit "Encouraging dialogue between the cinema and all creative fields": archive concert at mk2 Bibliothèque (2014), copyright PIAS/mk2 agency
Banner photo credit "Design, art and photography at mk2": exterior of mk2 Quai-de-Loire and Martial Raysse's work Sinéma, les anges sont avec toi, 2016, copyright mk2