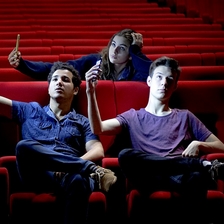 mk2 puts the spotlight on YouTubers through the Popcorner events (in French)
A partir du 29 septembre pour la première fois en France les YouTubeurs pourront diffuser en avant-première au cinéma leurs créations avant de les publier sur Internet. Pop Corner, c'est la rencontre entre mk2 et des jeunes talents du WEB passionnés par l'image et l'audiovisuel. Véritables icônes pour les moins de 20 ans, ces jeunes artistes talentueux partagent avec fraicheur et enthousiasme leur passion aux internautes et sont suivis par des centaines de milliers d'abonnés. Ces rendez-vous mensuels donnent l'occasion aux jeunes artistes de rencontrer leurs fans et de présenter leurs travaux devant des professionnels du grand écran.
Jeudi 29 septembre, le digital rencontre le 7ème art avec le premier cycle Pop Corner qui met à l'honneur deux YouTubeurs influents aux univers très singuliers :
Sofyan Boudouni, créateur et auteur de la chaîne YouTube éponyme, comptabilise plus de 3 millions de vues sur l'ensemble de ses vidéos. Des effets spéciaux, aux parodies en passant par les vidéos de zombie, Sofyan explique de manière décalée et humoristique les méthodes du cinéma.
Sébastien Frit aka Seb La Frite est un Youtubeur humoriste et chroniqueur musical de 20 ans. Sa chaîne YouTube est son exutoire où il partage ses envies, ses aventures du quotidien ou ses challenges loufoques. Son univers étonnant lui permet d'être suivi par plus de 2 millions d'abonnés.
Adèle Castillon, connue sous le nom de Adèle Ta Chérie d'Amour suivie par plus de 3 millions d'abonnés sera la maîtresse de cérémonie de ce premier rendez-vous « Pop Corner ».
INFORMATIONS PRATIQUES
« POP CORNER »
JEUDI 29 SEPTEMBRE – 20h
mk2 Bibliothèque | 128-162 Avenue de France, 75013 Paris | Tarif 12€
CONTACTS MEDIA
Carine Arasa Migeon – cmigeon@oconnection.fr – 07 68 38 44 45
Alvaro de Cirugeda – adecirugeda@oconnection.fr – 06 68 98 11 32
Virginie Friedmann – vfriedmann@oconnection.fr – 06 81 08 81 30
CONTACTS mk2
exploitation@mk2.com
Alice Lemoigne – alice.lemoigne@mk2.com – 01 44 67 30 05