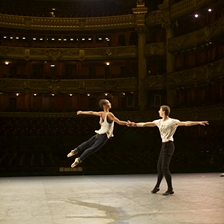 The documentary about Benjamin Millepied's work at the Paris Opera is released on September 7th (in French)
Dans une version longue inédite (120 minutes), ce documentaire retrace la création en 2015 du spectacle "Clear, Loud, Bright, Forward" de Benjamin Millepied, alors directeur de la danse de l'Opéra de Paris. Relève, histoire d'une création de Thierry Demaizière et Alban Teurlai sort dans les salles mk2 à Paris et dans toute la France en co-distribution mk2/KMBO.
SYNOPSIS
Benjamin Millepied, danseur chorégraphe français, est nommé directeur de la danse de l'Opéra National de Paris en novembre 2014. Sa jeunesse, son regard moderne, sa culture et sa notoriété doivent apporter un renouveau dans la prestigieuse institution. Aussi bien dans ses choix créatifs que par ses méthodes de travail auprès des jeunes danseurs du corps de ballet, Benjamin Millepied va révolutionner les codes de la danse classique. RELÈVE raconte le processus de création de son nouveau ballet "Clear, Loud, Bright, Forward", une incroyable épopée pleine d'énergie.
FICHE TECHNIQUE
Documentaire de 120 minutes
Réalisé par Thierry Demaizière et Alban Teurlai
Produit par Stéphanie Schorter
Musique originale : Pierre Aviat / éditions Falabracks
Images : Alban Teurlai
Images additionnelles : Éric Dumont
Son : Emmanuel Guionet
Montage : Alice Moine et Alban Teurlai
Une coproduction Falabracks / Opéra national de Paris
Avec la participation de CANAL+
Avec la participation du Centre national du cinéma et de l'image animée,
de la Procirep – Société des producteurs et de l'Angoa
Codistribution mk2/KMBO
Crédit photos : Falabracks – Opéra national de Paris 2015
CONTACT PRESSE
Monica Donati
55, rue Traversière 75012 Paris
Tél : 01 43 07 55 22
monica.donati@mk2.com