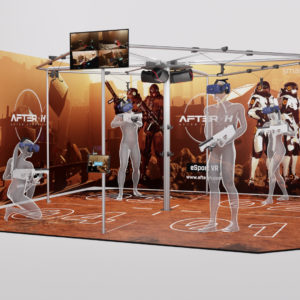 mk2 presents VR Esports Projects at the Paris Games Week [in English]
Paris, France – October 25th – From October 26th to 30th, mk2 will present its brand new VR solution for VR esports and multiplayer gaming, the VR Pod Arena, at the Paris Games Week, the French video games summit.
Two VR Pod Arenas will be showcased for the world premiere at the Paris Games Week: a first one on the MSI booth (Hall 1, Booth K001), with the title After H (smartVR studio) and the second one on the jeuxvideo.com booth (Hall 1, Booth K020), with the title Space Junkies (Ubisoft). This double exhibition is made possible by mk2's technology partnership with Intel.
After the opening of the mk2 VR, the first permanent VR space in Europe in December 2016, mk2 launched in March 2018 their VR plug-and-play solutions for professionals: the mk2 VR Pod. These end-to-end premium products have already been sold in more than 10 countries (Norway, Denmark, Brazil, Singapore, China…). With the VR Pod Arena, mk2 expands their hardware catalog with a new product, answering the needs of VR esports and video game companies.
This 4-player solution was conceived for esports multiplayer gaming experiences and VR escape game.Those special VR Pods will be sold with a whole setting inspired from games such as After H, and the most adapted VR technology for operating these titles. With the intention of creating a very complete offer and answering to each and every type of VR actors' needs, the mk2 VR Pod Arena will be available for order right after the Paris Games Week.
The creation of this products follows the partnership with Webedia, announced back in June 2018. This collaboration between the VR branch of mk2 and the French online media group has been settled around the common ambition to make VR esports more available on French television and online media. In November, Webedia's channel ES1 will be the first TV channel to broadcast a VR competition, the mk2 VR League, organized in the mk2 VR LBE in Paris with pro gamer teams competing on Echo Arena (Ready At Dawn Studio).
mk2 announces their ambition to program more esports VR tournaments. Elisha Karmitz, CEO of mk2, states: « VR esports have two main qualities, it is more accessible because the practice requires less complex combinations of keys since the players move their hands and the rest of their bodies. The other advantage is that this movement of the body is very interesting to watch, as much as what is happening on the screen. The approach is closer to traditional sports. These two differences can make VR esports very popular. »
About mk2
mk2 is a multi-award winning film exhibitor possessing a know-how extracted from 42 years of excellence. mk2 produced more than 100 movies and operate 26 theaters in Europe. mk2 have been awarded several times for the movie they produce or distributed, including 160 awards in major film festivals. From mk2 birth to nowadays, innovation and creation has always been part of their DNA. mk2 VR is a logical move for such an innovative and experimented company. In the coming month mk2 develop actual knowledge to the VR world by opening, venues, investing in content production and distribution, and a communication agency dedicated to VR.
About After H
Based on a FPS gameplay and developed by the French studio smartVR studio, AFTER-H offers a competitive gameplay, opposing 4 to 8 players, with headsets and connected guns for a full immersion. The game will be released in early access on Steam and PSVR platforms by the end of the year, but the game is also available is a hundred VR arcades worldwide, and around 20 in France.
About Space Junkies
Developed Ubisoft Montpellier with the new motor Brigitte, Space Junkies is futurist shooting game in VR, for 2 players vs 2 players in spatial arenas. The fights take place in a place without gravity and the player can move and attack in any direction with customized and merging weapons.
Press Contacts
Louise Schwab – louise.schwab@mk2.com
Barthélémy Dupont – barthdupont@hotmail.com – 01 43 07 55 22 / 07 83 26 08 43