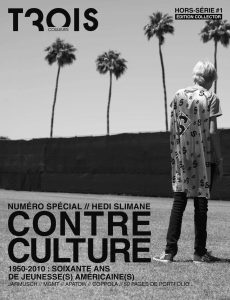 Elisha Karmitz joined mk2 in 2006 as Managing Editor of the free monthly magazine TROISCOULEURS, for which he oversaw the new editorial policy and visual identity. Initially presenting news from mk2 cinemas, TROISCOULEURS became an independent provider of cinema-, culture- and lifestyle-related content in 2006. TROISCOULEURS moved online, recording several concerts (Mos Def, Wu-Tang, etc.) and producing a documentary on the legendary Motown record company. In 2009, Elisha Karmitz launched a collection of special editions distributed in newsagents. Hedi Slimane was editor-in-chief of the first issue, Contre-Culture, 1950–2010: American Youth. Seven other special editions followed, celebrating major figures and the revival of pop culture: The Doors, Sofia Coppola, Stanley Kubrick (official catalogue of the exhibition staged by the Cinematheque Française in 2011), JR, Game Stories – The Secret History of Videogames (to coincide with the exhibition at the Grand Palais in 2011), the cartoonists Dupuy and Berberian, and On the Road (Jack Kerouac and Walter Salles).
In 2008, Elisha Karmitz became the head of mk2 multimedia and developed the mk2 Group's communication and diversification operations. In 2012, he launched mk2 agency, which specializes in audiovisual communication, content creation and events management. This new structure makes mk2's expertise available to brands, which it puts into contact with the big names in cinema, culture and fashion. With mk2 agency, Elisha Karmitz has produced: Catherine Deneuve Rive Gauche, a short film for Le Bon Marché directed by Loïc Prigent, Unpredictable Creativity, two short films directed by Kim Chapiron for Nike, as well as the short films Enfin la fin by Benoît Delépine and Aujourd'hui by Nicolas Saada for Ciné+.
Elisha Karmitz has coproduced a documentary, Piratage, by Etienne Rouillon and Sylvain Bergère (2011), and two feature-length films: Jia Zhang-Ke's Mountains May Depart (2015), in competition at Cannes Film Festival and winner of Best Screenplay at the Asian Film Awards, as well as Xavier Dolan's It's Only the End of the World (2016), which won the Grand Prix in Cannes and the César for Best Director. In 2013, to mark the release of the film Inside Out by the artist JR, Elisha Karmitz and the mk2 teams allowed him to install his photo booth on the square outside mk2 Bibliothèque and create a 1,200 sq m collage on the exterior of France's National Library.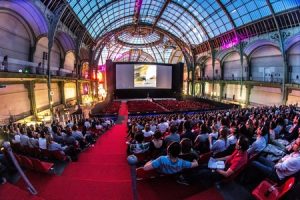 Elisha Karmitz develops outdoor and ephemeral cinema rooms: with mk2 agency, he staged the world's biggest 3D film screening for LG, showing the animation Rio under the glass roof of Paris's Grand Palais in 2011, which entered the Guinness World Records. In 2013, he founded the pop-culture festival CINEMA PARADISO, which reinvents the before-during-after cinema session, again at the Grand Palais. Around with the three-part concept mixing food, cinema and music, both Cinema Paradiso events (2013 and 2015) have screened dozens of cult films, from Jurassic Park to The Big Lebowski, to audiences stretched out in bed or snuggled up in a Fiat as well as hundreds of hours of all-night clubbing, bowling lanes, vintage videogames, food stalls and even a gourmet restaurant by the chef Jean Imbert ten metres in the air. The two festivals have been attended by 160,000 people.
mk2 agency has continued its collaboration with Jean Imbert by creating a gourmet cinema club in its made-to-measure cinema hidden within the Palais de Tokyo: Miss Cinema. In both 2015 and 2016, visitors to the 25-seater cinema were able to discover or rediscover a classic film whist enjoying an innovative meal specially prepared by the chef to reflect the storyline.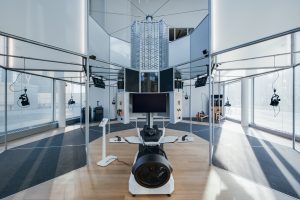 Following two years of research and development and cooperation with leading studios and market experts, Elisha Karmitz and the mk2 teams have developed the first permanent space entirely devoted to virtual reality at mk2 Bibliothèque: mk2 VR. mk2 VR is a new culture and entertainment concept that hosts  exclusive screenings and previews throughout the year. Staying true to its cinemas' reputation, mk2 has set high standards for the venue's programming, which will be eclectic and constantly changing. With drama, animation and documentaries as well as videogames, simulations and immersive experiences, the content is chosen for its quality, emotional punch and thought-provoking themes. "mk2 VR is a platform for entertainment and expression, which is designed to showcase the work of studios and creators of independent content," says Elisha Karmitz.
Photo copyright: Gilles Bassignac/Divergence for JDD (2015)