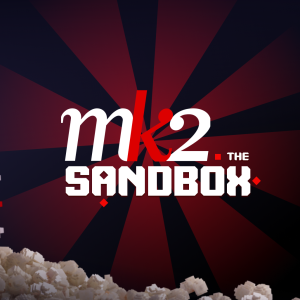 mk2 and The Sandbox team up to create a home for independent films and cinema experiences in the metaverse
Leading French film company with new and historical films and innovative film theatres to bring art-house flair to its LAND in The Sandbox
The Sandbox, a leading decentralized gaming virtual world and a subsidiary of Animoca Brands, and mk2, a leading French art-house film company, today announced they have partnered to create new film-oriented experiences set on mk2's LAND in The Sandbox, named "mk2 Park".
The mk2 Park will function as a cinematic carnival experience, with an open-air cinema set among the clouds above a giant carousel. The multiplayer social hub will also be populated with film-themed minigames, rides, and iconic film references. The goal is to provide film lovers with a place to play, experience, and socialize around a love of cinema in all its aspects – including the idea of a movie house as a beloved meeting spot.
"We envision the metaverse as a gathering place of diverse entertainment and culture, and it's a pleasure to welcome mk2 as our first art-house film partner," said Sebastien Borget, COO and Co-Founder of The Sandbox. "Together, we plan to create an entertainment destination for cinema lovers to enjoy together in the metaverse."
mk2 is known for creating, preserving, distributing, and exhibiting new and classic films in France and around the world. Its collection includes films by Charles Chaplin, François Truffaut, Agnès Varda, , David Lynch, , Céline Sciamma, Mati Diop, and many others. Noteworthy in world art-house cinema, both in supporting films and creating innovative movie theatres, mk2 promotes quality filmmaking, multi-faceted vibrant hubs, and creative discovery. Designed as living and creative discovery places, mk2 cinemas include meeting spaces and discussion areas.
Always committed to bringing cinema into dialogue with all creative fields, mk2 has been a pioneer in immersive technologies with the opening in 2016 of mk2 VR, the first virtual reality venue in Europe. The Sandbox now offers a new space for creation, expression, and social interaction and thus extends the cinema experience in a place open to all where to celebrate cinephilia without borders.
"We have always promoted another idea of cinema, as a universal art open to all audiences," said Elisha Karmitz, CEO of mk2. "Bringing our vision into the metaverse with The Sandbox through a unique experience that celebrates cinema, is an fascinating  opportunity to gather film lovers from around the world in a new space for creation and discoveries."
Part virtual real estate, part amusement park, The Sandbox fully embraces the idea of the metaverse as a continuous shared digital space where worlds and heroes collide to make magic. mk2 join over 400 existing partners in The Sandbox, including Warner Music Group, Ubisoft, The Rabbids, Tony Hawk, Gucci Vault, The Walking Dead, Snoop Dogg, Adidas, Deadmau5, Steve Aoki, Richie Hawtin, The Smurfs, Care Bears, Atari, ZEPETO, and CryptoKitties, all following The Sandbox team's vision of empowering players to create their own experiences using both original and well-known characters and worlds.
Media contact mk2 : 
Monica Donati
mk2 | 55 rue traversière 75012 Paris| + 33 (0) 1 44 67 30 64 |  monica.donati@mk2.com
Media contact The Sandbox :
Clément Colaneri
RESET PUBLIC RELATIONS| 17 rue du Cygne 75001 Paris | + 33 (0)1 41 14 34 36 | clc@resetpr.com